Moorcroft Riven Stone Paving
Moorcroft Indian sandstone paving exhibits a wonderful range of warm and colourful natural tones. Light buff base colour with injections of browns and orange.
MOORCROFT NATURAL STONE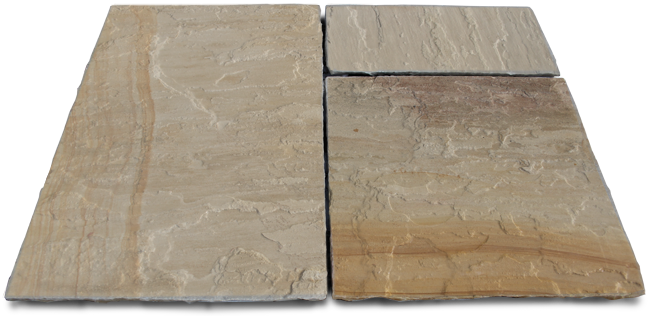 Buff yellow with warm orange and brown and grey colouring.
Moorcroft stone has proven durable for many years and can withstand the rigours of harsh weather conditions. Furthermore, it has been used many times for both outdoor and indoor applications and has also proved successful when applied with under floor heating.
Moorcroft has excellent skid resistance wet or dry if installed outdoors we recommend cleaning periodically with a power washer to remove any build up of mosses or lichens to retain the slip resistant qualities of the stone.
The stone is quarried, split and finished to a high standard and is made into a range of specific standard sizes which enable the user to lay paving quickly and economically.
Image Gallery – Moorcroft Indian Stone Paving
Inspiration
with Moorcroft Stone
Moorcroft Indian Stone – Suitable for many applications.
Bespoke Circular Feature, cut from Indian Natural Stone Paving
Indian stone paving is a versatile product. We import Indian natural stone in a range of pre-set rectangular sizes. However, the layouts need not be limited to the traditional rectangular format. We offer a design and cutting service, taking the economical standard units and cutting them to bespoke designs to individualise your creation.
Nautical Star
Commissioned by a client, this nautical star design formed the centrepiece of a paving scheme. We can, in house, design and manufacture bespoke features with a variety of approaches.  Your design ideas can be communicated verbally or by sketches, templates, architectural drawings or even photographs of something you have seen before.  We will then produce a working drawing for design clarification and pricing purposes. Then, should you wish to proceed, we will produce the design in materials of you choosing.

Fantastic selection of stone from all over the world, as well as Yorkshire. Great value for money, Responsive customer service and can highly recommend them. Our new patio area looks fantastic. Extremely satisfied

"Thank you! From start to finish the service we've received was great.  The stone looks fantastic, thank you Bingley Stone."
Recent Projects – Yorkshire Stone