Pennine Yorkstone Paving
A beautiful blend of natural hues of buff, brown and pale terracotta. A hard wearing and durable stone exhibiting a subtle natural beauty. Quarried in the north of England, Bingley Stone has almost exclusive access to this quarry and are able to produce paving, steps and masonry work of the highest order.
PENNINE YORKSTONE PAVING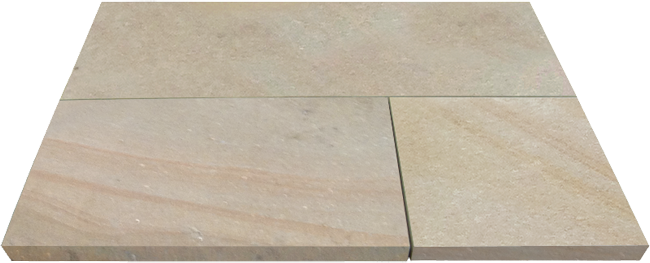 Muted hues of buff with occasional pale brown and terracotta veining.
Pennine sawn Yorkshire stone or 'Yorkstone' is a popular choice due to the subtle, yet interesting colouring.  When newly quarried, the stone has a base colour of light buff with varying degrees of subtle colour running through, shifting from the greyer tones to warm browns.  Where some stone types might be interpreted by some as 'bland' and others could be seen as 'garish',  Pennine is one of those rare stones that exhibits some natural interest without looking too fussy.
Pennine Yorkshire stone is a durable and versatile material, ideal for many applications such as steps, paving stone, coping stones etc.  Bingley Stone's masonry department can cut, shape and profile newly quarried Pennine Yorkstone block to your requirements.
Pennine natural stone will improve with age.  All natural stones, particularly when installed outdoors will mature over time. They will take on a more mellow, muted appearance and to some degree equalise somewhat, with a natural patina formed.  This is a result of the exposure to the elements, algae and lichens forming and foot traffic.  This combination can polish the surface over time.  Pennine stone should retain some character through this process and will in turn display its natural beauty.
Image Gallery – Pennine Sawn Stone
Inspiration with Pennine Stone
Examples of Pennine stone used in various applications.
The Ideal Partner to Red Brick.
Pennine works well with red brick. The lighter buff base colour compliments the red brick colours and the occasional veining or banding in the Pennine stone echos the natural terracotta and reds found in most red bricks.
Bingley Stone regularly work to produce steps such as these, cut to size and finished with a nose detail, such as 'bullnosed' (as shown in the photographs),  a 'half bullnose' or a simpler 'pencil round' detail, amongst others.
We are happy to work alongside Designers, Architects and Homeowners to assist during the design process.  This can be a simple step to complex curved flights.  Our in house CAD team can provide design assistance and supply working drawings to help bring design ideas to working conclusions.  Our CAD files can then be passed to our production team.  The stone is then cut using our CNC controlled stone cutting saws to ensure complex designs fit together once on site.
One Year On
How will my stone look as it ages?  Natural stone will mature and reveal more natural beauty with age.  Colours will warm and mellow with time,  lichens and algae can take hold and the natural process of weathering all take part to evolve natural stone into the environment where it has been situated, after all, natural stone forms part of our natural landscape. It is going to look at home, because it is home!

Fantastic selection of stone from all over the world, as well as Yorkshire. Great value for money, Responsive customer service and can highly recommend them. Our new patio area looks fantastic. Extremely satisfied

"Thank you! From start to finish the service we've received was great.  The stone looks fantastic, I know we will enjoy it for years and years. Thank you Bingley Stone."
Recent Projects – Yorkshire Stone