Hill Top Yorkstone Paving
Quarried since the 1800's Hill Top Yorkstone has proven its durability in many of Britain's fine Victorian buildings that are still testament to its strengths today. This particular Yorkstone is a fine grain carboniferous sandstone from the Cretaceous period (65 to 144 million years old)
HILL TOP SAWN YORKSTONE PAVING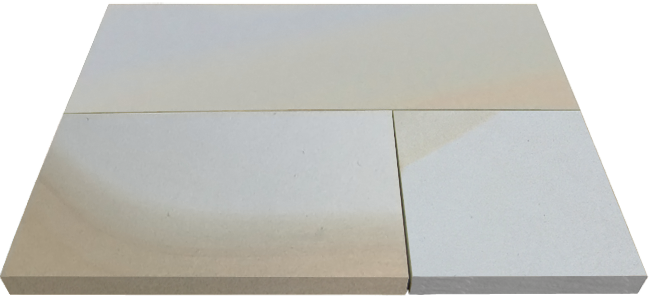 Grey blue / buff tones – Durable fine grained Yorkstone.
Hill Top sawn Yorkshire stone or 'Yorkstone' is a popular hard wearing, durable Yorkstone paving.
Cut from buff yellow coloured blocks with grey centres, it produces a pleasing blend of grey and buff tones that mellow and darken to a richer colour as it ages.
Hill Top Yorkshire stone is a durable and versatile material, ideal for many applications such as steps, paving stone, coping stones, etc. Bingley Stone's masonry department can cut, shape and profile newly quarried Hill Top Yorkstone block to your requirements.
Inspiration with Hill Top Stone
Hill Top Yorkstone is a versatile product. Below are examples of Hill Top Yorkstone in a variety of applications.
Bespoke Feature Steps & Paving
Hill Top Sawn Yorskstone can be cut to bespoke designs.  we have the facilities to water jet and diamond cut with state of the art CNC machines.
Bingley Stone regularly work alongside Designers, Architects and Homeowners to assist during the design process. Our in house CAD team can provide design assistance and supply working drawings to help bring design ideas to working conclusions. Our CAD files can then be passed to our production team.  Stone is cut with CNC controlled stone cutting saws to ensure complex designs fit together once onsite.
Bullosed Steps
Hill Top sawn Yorkstone makes beautifully designed steps. Hill top is a diamond sawn from quarried blocks. The process enables us to produce raw slabs to accurate dimensions, and our masons then finish the steps with either straight, bull nosed, or pencil rounded leading edges based on your requirements.
Hill Top Yorkstone also offers excellent slip resistance in dry and wet weather,  which is important for step applications.
Fantastic selection of stone from all over the world, as well as Yorkshire. Great value for money, Responsive customer service and can highly recommend them. Our new patio area looks fantastic. Extremely satisfied
"Thank you! From start to finish the service we've received was great.  The stone looks fantastic, thank you Bingley Stone."
Recent Projects – Yorkshire Stone